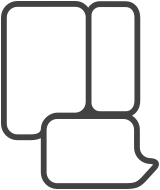 How can a successful strategy be devised in a rapidly changing world? How can a shared understanding of company goals be created? How can organizational culture be changed? How can internal processes be made more efficient?
And how can we guarantee that goals are never out of sight in everyday life and that they never become inflexible?
An interactive workshop with the Organoco Mindset provides clear answers to many professional questions. The methods and tools at our disposal encourage surprising shifts in perspective and offer an excellent base for teams to take a fresh and creative new look at a project, overcome challenges, or formulate and refine their strategy.
Beyond new ideas and fruitful teamwork, the workshop will result in a clear action plan to be carried out by the participants after the event.
N

Strategy workshop for senior executives
N

Collaboration program for teams facing changes
N

Organizational culture workshops
N

Effective recruitment workshops
All workshops are laid out in a unique offer following detailed exploration. Depending on the topics covered, a workshop can be a half-day meeting to provide a boost or several days of in-depth teamwork.
Our services are available online, in hybrid (online and in-person) form, and in-person in English and Hungarian.