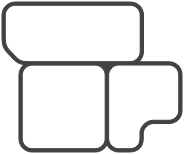 How can team spirit be maintained from a distance?
How can team cohesion be created in a new team when people can hardly meet?
How can we connect, study, chat if we only see each other on screens?
The 'A New World in Sweatpants' concept is a fresh, creative approach to remote team-building events. It is founded on our ample experience with sizeable in-person team building festivals and the tools of a digital setting. The result is a virtual team building event that
N

offers interesting, educational and entertaining games utilizing the unique theoretical and practical elements of the Organoco Mindset
N

ensures plenty of time for mingling, chats and building connections
N

motivates everyone towards active participation
N

allows participants to plan their day
No travel, no masks, no social distancing, no uneasiness. Participants need only a few things:
N

a stable internet connection with Zoom or another chosen app
N

a quiet, comfortable place where they can spend a day
N

and sweatpants, or whatever they're comfortable in
N

All elements of a great team-building event in creative, digital ways.
N

A unique methodology and kind, experienced trainers at each "location."
N

Tailor-made program for your team, focused on your needs.
An offer is prepared for teams of 12–150, following a free-of-charge exploration discussion. Events are available in English or Hungarian.