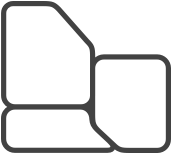 How is it best to support key employees with the challenges caused by COVID-19 and widespread work-from-home? What should we do if we are in a state of increasing change that makes building and maintaining change-confidence a top priority even after Organoco processes? How do we help leaders after an intensive training program or a high-impact individual process?
The Invention Factory Retention Program is an online, practical, new solution that focuses on previous participants of change-confidence training sessions, leadership workshops, or individual change support processes.
The half-year program, which runs with mixed groups, allows our partners to continue supporting their managers and key employees in a cost-effective framework.
N

The topics of the 3-hour meetings are determined by the current challenges participants face. As a result, the group receives support on relevant, important issues.
N

The process helps participants incorporate the beneficial perspective shifts of the Organoco Mindset into their everyday lives. The six-month program reinforces change-confidence, offering continued support in improving the efficiency and happiness of leaders in the workplace.
N

The groups of 6 to 8 grow into teams through monthly sessions. Thus, the client exposed to a high degree of change becomes a part of a supportive community. Meetings are characterized by detailed theoretical backgrounds, memorable tasks, playfulness, and a supportive, accepting, safe atmosphere.
The six-month Retention Program can be an online, hybrid (in-person and online), or an in-person process.
The group coaching with six sessions (1 month per month for six months) is available in Hungarian for all those who have previously participated in an Organoco Mindset training of at least five modules or an individual change support process with at least six meetings.
Participation fee: HUF 52,000 + VAT / person per month, a total of HUF 312,000 + VAT / person.