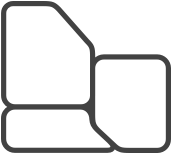 Motivation, satisfaction, and commitment are magical but extremely sensitive considerations. Without a motivated, highly-performing team, companies will find it hard to achieve their goals, innovate and renew themselves to face the challenges of the changing world. In some cases, they may find it hard just to survive. However, a team of enthusiastic, well-balanced individuals will almost always accelerate growth and the thriving of an organization.
The Organoco Method supports teams with a deep understanding of efficiency and happiness in the workplace.
N

By highlighting the driving forces behind human behaviors, it shines new light on the issues of motivation and commitment, evoking fresh thoughts about ambition, career plans, flexibility, and handling failures.
N

The program can be a treasure trove for those hoping to build inspired teams and nurture their workplace inspirations.
N

Learning through experiences, the team will be given a new perspective on motivating others. Meanwhile, they will uncover their motivational drivers, and by the end of the training, participants will put together a functioning, well-oiled motivational toolkit.
N

Targeted iterations of the Happiness and Motivation programs can give HR teams, executives, team leaders, and employees new impetus in their work.
The 8–24 hour program is available online, in hybrid (in-person and online) and in-person variants, for closed company groups, in Hungarian and English.