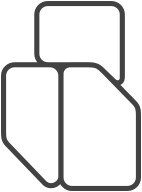 Customized organization development
Shaping, developing, and changing an entire company is a complex, beautiful challenge. Our customized organization development processes are typically multi-layered to ensure all our knowledge about how humans work, change, and experience success can be put to effective use in achieving a company's goals.
People bring an organization to life. Getting to know individuals, finding common ground, and supporting them is a key issue of organizational change. Many obstacles to success disappear when people find their place in an organization, when personal and corporate goals coincide, and when individuals are ready and able to change. An individual-centric approach to development has a big impact on every organization.
Then comes the organizational layer.
An organization is always more than a mere totality of individuals. Rather, it's an independent being with its own character. It is important to examine the decisions this being makes, how it works, what it takes to freely, and in which questions it limits itself. In the meantime, it is worth approaching it as something just as complex as a person whose contradictions, fears, seemingly unreasonable thoughts are often fuelled by important, internal desires. Applying such an approach to an organization allows blocks to help in identifying unusual yet effective interventions to power change. The organizational approach identifies new discoveries, new possibilities and catalyzes free growth.
The organization begins to respond to the process immediately after the first few sessions and starts seeing challenges as safe adventures full of opportunities. However, organization development develops not only the change-confidence of participants and the quality of connections between colleagues. Even in challenging environments, the company sets its goals more boldly, achieves them more easily, and shapes its future more freely.
Individual and group processes, topic-focused, general leadership, and change support programs form an exciting combination in our work. We remain flexible throughout the complex organizational development process, which consists of exploration, training, workshops, coaching, and consulting. We believe that observations and new requirements will help the process.
Our services are available online, in hybrid (online and in-person) form, and in-person in
English and Hungarian.