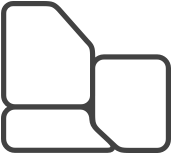 CHANGE-CONFIDENCE TRAINING
The future is shaped by those that see change as a safe, motivating force and use it boldly and with ease.
But how do we overcome our simultaneous attraction to and fear of change? How can individuals, teams or whole organizations become more open? How can curiosity and excitement wrestle control from our fears and resistance to change?
The unique program speaks to leaders at various levels:
N

In the complex and ever-changing modern world, an organization's success often hinges on how its leaders see change, how it influences their strategy, decisions and organizational culture. As a training program for leaders, the process supports their change-confidence and can improve company performance and leaders' well-being at the same time.
N

The experience-centric training offers veteran, trained leaders a refreshing new perspective. The process awakens slumbering resources and skills while supporting leaders with heavy workloads.
N

The process offers a firm foundation and deep understanding based on decades of leadership experience for new leaders. Beyond teaching new leadership skills, the program deepens participants' self-knowledge, helps their development and leads them towards success.
N

Participants often experience the training as a team-building event. The process build team cohesion brings long-term change to cooperation and ensures the diversity of an organization is used to build a competitive advantage.
The 50, 80 or 120-hour training program is available online, in hybrid (online and in-person) or in-person from, for closed groups in English and Hungarian.